Italian Cuisine as it should be…Authentic & Fresh!
About Us
Welcome to Colao's Ristorante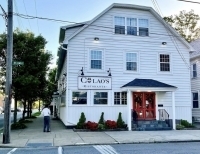 In 1969, Saverio "Cee" Colao immigrated to America from Calabria, Italy. Growing up, he frequently spent time in the kitchen with family cultivating his passion and dedication for cooking, being taught that only the freshest & highest quality ingredients make the best dishes. Most recipes found in Colao's kitchen today are those of many culinary traditions he shares with his family and friends from 'the Old Country'.
Thirty years later, embarking on the American dream, Cee established Colao's Ristorante in 1999 to share his Italian heritage and little corner of Italy to Erie, PA. Today, the restaurant is still owned & operated by Cee, his wife Ellen, and their children Nicholas & Julia. Most nights you'll find Nicholas greeting guests out front, while Cee is supervising the busy kitchen, making sure the family recipes are exactly as they have been for generations.
Our Hours
Plan A Visit To Colao's Ristorante
Restaurant Hours
Monday – Saturday : 5:00PM – 9:30PM
Sunday: Closed
Catering
An Upscale Dining Experience For All Your Events
Colao's is now offering off premise catering for large parties; weddings, family or class reunions, graduation, rehearsal dinners,benefits, charity functions or any special event at the venue of your choice. We are not limited to Italian Cuisine, you can select from our existing Italian or non-Italian menus or we can create one to your specifications.
Private Events
Private Events
Colao's Ristorante is now offering catering services for your special events. The second floor at our restaurant can accommodate up to 60 guests, a perfect setting for corporate dinner meetings, rehearsal dinner, holiday parties or any other special event that requires a personal touch. It also features a full service bar in an intimate setting. Our on-site catering menu features selections from our regular dinner menu and it can be prepared for buffet or sit down or we can help you create your own.
See What People Are Saying
Testimonials
Get in Touch Today
Contact Us